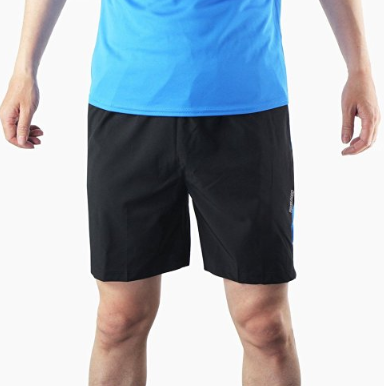 ARSUXEO Men's Sports Two Zipper Pockets
Two zipper pockets on each side

Several colors to choose from
Make sure to order a size or two bigger
Review from michael malachowski:
The shorts arrived 10 days from ordering, sooner than advertised, which is always a nice surprise. The material and stitching are good and there is plenty of room in the leg room for biking which is when I primarily use them. The colorful red sash down each side gives them a bit of pizazz and functions to allow evaporation. The zippered pockets work well, allowing me to carry a few items without fear of loosing them.
I have a 34 inch waist and ordered size large. The elastic band allows them to stretch to fit and would go ever further if needed. On the other hand, the tension created by the elastic band in noticeable and I'd like a looser fit . I prefer using string ties ( which these shorts have) to tighten shorts to my comfort level, so next time, I'd order extra large and use the ties. .
Once you get the sizing right, these are good shorts at a minimal cost. Quality, delivery, style and function are all up to par. .